This is the third edition in the series of making a success of business or project funding – Why is my business not getting funding 3?. We started with the first edition (click here to read it) which highlighted the need for a bankable business plan and what it should likely contain.
The second edition (click to read it here) highlighted the need to define your business purpose clearly; what problem you are solving and what business you are into.
We continue our business funding success drive with more key issues that should be available to ensure you get the funding you require.
Today, we will be talking about keeping records.
KEEPING RECORDS
Records are primary documents or source documents (depending on who is asking) that evidence transactions. These records could be physical, online (soft copy) or both. These documents include contracts, receipts, invoices, letters, legal documents, customer records, employee records and supplier records.
Records help build accurate business information with details for tracking and documentation. Their non-existence answers the question – why is my business not getting funding?
This is part of the requirements for structuring your business and keeping financial records. For every financial transaction, you need to keep track and keep records, basically it is as below.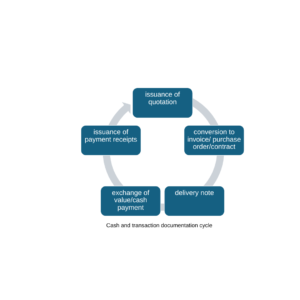 For each stage of transaction in the diagram, documents should be made available as proof of transaction which is good for future reference and records.
It also forms the basics of setting up business structures. In accounting, it is the backbone of the business financial structure and information. It gives you accurate information about the state of the business.
It addresses issues like cashflow, liquidity, profitability, investment, debts, creditors, business assets and liabilities, taxation issues. It helps you make realistic business projections and accurate financial decisions.
Records give confirmed information on legal issues in the business. You need to keep business bank records and ensure that the business records are separate from personal records.
Pass all business transactions through the bank. This is the first thing the bank usually asks for as it gives your financial history, appetite, capacity, and habit.
If you are not used to passing all financial transactions through the bank, a bank will find it difficult to fund your business. Even investors ask for this often in high-end transactions for same reasons banks and financial institutions ask for it.
You do not need expensive fancy software before you start keeping records. The software is more affordable these days, and many are free for startups, but if you can't afford it or meet up to their terms and conditions, the manual system of keeping notebooks and ledgers is still good enough and banking all monies cannot go out of fashion, at least not soon.
Record keeping helps control costs, minimize expenses, and helps with strategic decision making for the business.
Setup a filling system for your records and have a safe way of keeping the manual and online copies of your records and ensure it is easy to retrieve when needed. As easy as you make your records retrievable, restrict access to only trusted and authorized persons.
You might be too busy to keep regular records, then schedule it; it can be at the end or beginning of the day, weekly, bi-weekly, or monthly. If you feel you are just too busy or lazy to keep your records, then hire or outsource the function. But note that you must be able to regularly verify and inspect your records, especially as a small business, otherwise you have opened yourself up to fraud and all manners of errors and inaccurate details.
When you keep accurate records and have them available to your investors or financiers when needed, you are steps closer to getting that funding or investment.
Coinbox Limited is available to assist with setting up an accurate record-keeping system or to help you hire staff to carry out that function. You can equally outsource that function to Coinbox Limited.
I wish you all the best in your business funding drive.
Ayo Emakhiomhe.